Welcome - and thank you very much for visiting our website. We are always delighted to hear from long-standing and new supporters, as well as potential new singers.
Amazingly, 2019 marked our 50th year as a choir, which is a great achievement and 2020 sees the beginning of our next exciting chapter ... so please do listen to OUR SHOW-REEL and video clips from some of our previous concerts (below) and we very much hope that you will be inspired to come to our NEXT PERFORMANCE. Similarly, if you like the idea of joining us to have fun singing, please do get in touch. You can be sure of a friendly welcome - and you can learn more about the choir on our ABOUT US page or email us HERE if you are interested in becoming a member or have any queries.
- CORONAVIRUS PRECAUTIONS -
NORMAL REHEARSALS ARE CURRENTLY SUSPENDED UNTIL FURTHER NOTICE (SEPTEMBER, AT THE EARLIEST).
Singers please note that there is important information available for you on our Members' Page ~ and, if the password has slipped your memory in all the excitement, simply ask another member or get help via our Contact page!
OUR NEXT CONCERT
is now planned to take place in
St Michael's Church, Cheriton on
SATURDAY 14th NOVEMBER
Featuring a selection of music from well-loved shows including West Side Story, Les Miserables and The Greatest Showman
PLEASE NOTE THE REVISED DATE

... AND WATCH THIS SPACE FOR FURTHER DETAILS!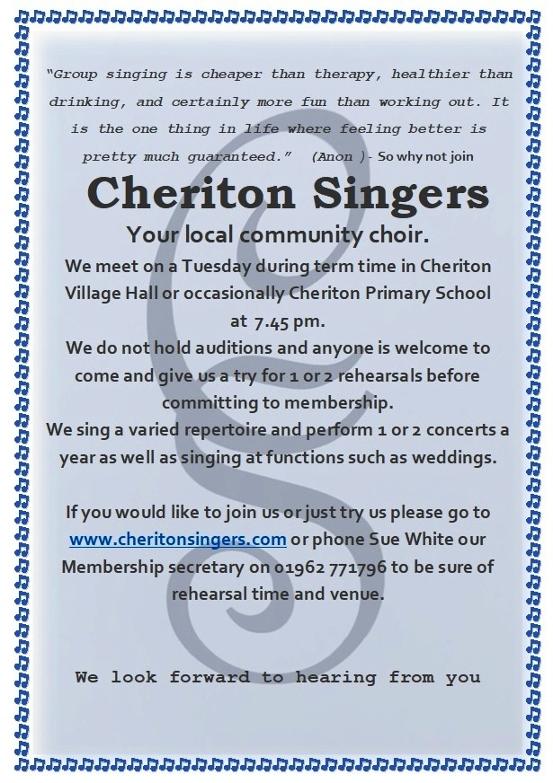 This piece 'If Ye Love Me' by Tallis was recorded individually by members during the 2020lockdown and then, with the joys of technology, Ben Cooper has subsequently combined the four parts (please click on the player below to enjoy).
Definitely 'a first' for Cheriton Singers!
TALLIS ~ IF YE LOVE ME.mp3