Cheriton Singers will entertain you!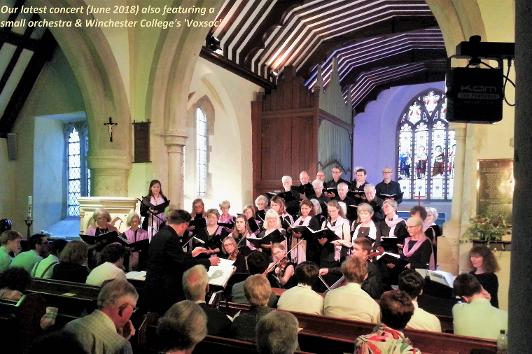 Introduction
Welcome! Thanks for logging on – we are always happy to get a visit from long-time supporters and new ones. Do look at the details of our next concert and be inspired to come and listen.
Performances
The Cheriton Singers' most recent concert,
MUSIC THROUGH THE AGES, also featuring VOXSOC from Winchester College plus a small orchestra and soloists took place on SATURDAY 9th JUNE 2018
in St. Michael's Church, Cheriton.
It was a fantastic evening of music, with a varied and exciting programme - and a really appreciative full audience...
please click on the adjacent video
to see a few clips!
Further information about our next event will be found under our 'Concerts' page, but please do contact us if you would like more details.
Approach
Our goal and our passion has been to work hard, entertain our audiences and have fun in the process. We are looking forward to our next concert and hope that you enjoy the diverse programme. Take a look at the details on the Concerts Page or contact us using the link above.
Rehearsals
We rehearse every Thursday (during term time) usually at St. Michael's Church, Cheriton at 7.45 pm. New members are always very welcome, so why not come for a 'taster' and see if you would like to join us. We are holding 2 sessions on 4 and 11 January 2018. You can contact us for more details using the link above or see the About Us page. For full schedule see "About Us" tab.